News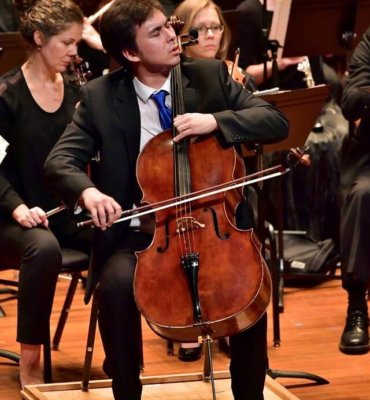 On October 21, 2018, cellist Jonah Ellsworth was the featured soloist for the Boston Philharmonic Orchestra. Boston Globe columnist Zoë Madonna wrote this about his performance: "Cellist Jonah Ellsworth, the program's featured soloist, has been in Zander's orbit for years….It's easy to see why Zander likes Ellsworth. Both are alchemists of emotion in music. It's quite easy to like Ellsworth as well; wrapped around his cello, he palpably gave his entire body and soul to Dvorak's Cello Concerto. His tone was gracious but raw, the underlying sinews of each note showing through."
    Watch Jonah Ellsworth's 2014 performance of Strauss' Don Quixote with the BPYO
Violinist Hao Zhou of the Viano String Quartet received three prizes at the prestigious 2018 Wigmore Hall International String Quartet Competition, including third prize overall, the Haydn Prize for best performance of Haydn, and the Sidney Griller Award for best performance of Adès's The Four Quarters. Hao plays a Maestro violin bow made in 2002 by Giovanni Lucchi.
    Watch Viano String Quartet's final-round performance at the 2018 Wigmore Hall International String Competition on YouTube
Violinist Sofia Kim of the Monroe String Quartet recently completed a residency at the Beethoven-Haus in Bonn, Germany in cooperation with AmerikaHaus and the Jacobs School of Music at Indiana University. Sofia and her colleagues had the opportunity to study and work with historical artifacts and instruments and present a recital at Beethoven-Haus. Sofia plays a Maestro violin made by Gregg Alf in 2000 and bow by Giovanni Lucchi in 2000.
Photo Credits:
Jonah Ellsworth: Paul Moratta
Sofia Kim: Lindy Tsai